German courses with Skype
In 2022, technological progress is such that not only is a German course via Skype feasible but it also has some advantages over a traditional face-to-face course.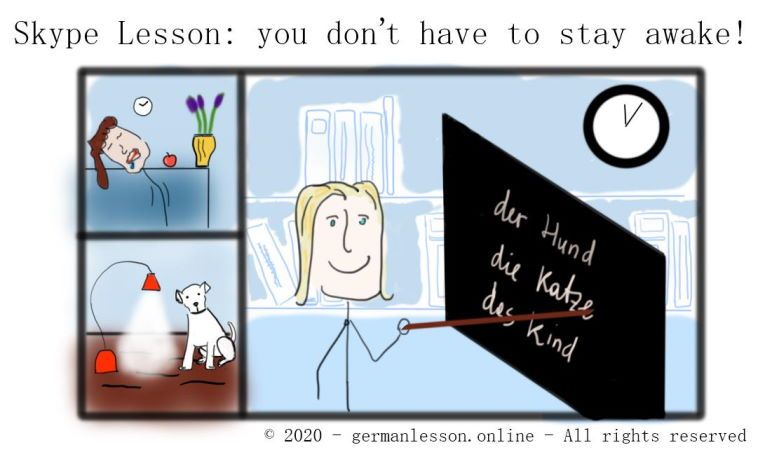 In an online German course, the student and the teacher are connected to each other via Skype or other equivalent software.
Contrary to popular belief, online language classes are as interactive and engaging as traditional courses.
It is essential that the tutor is able to keep the student's attention level high, reacting to the signs of inattention or tiredness that come from the student.
This is where tutors' experience comes into play.
Among the novelties of online language learning, there is the possibility to record the lesson, so that it can be easily reviewed later.
For information on German virtual classroom visit the page linked. If you are more the 1:1 learner keep reading this page!
My experience 👩‍🏫
I have a degree in linguistics from Munich's University and have been teaching languages for thirteen years.
I enjoyed tutoring language learners from all over the world 🌏, say a country, I have it… probably.
I have taught in individual and group courses, both for adults and for children.
Only recently I have launched my online language courses. Focusing on the best techniques and strategies to learn a second language without the physical presence of a teacher.
My German courses
The beauty of an online course is that this is shaped, during the course, by the particular needs of the student.
The learner is always at the Mittelpunkt (center in German) of the learning process.
Let's see a rough categorization of the courses according to the number of lessons per week and the focus:
Generic. Once or twice a week, to learn the language calmly but with solid foundations. Obviously, it is the most requested. It is right for you if you have no special needs, such as tight deadlines.
Intensive. Probably you need to speak German in a short time, because of a deadline or similar. Two hours a day immersed in the language will make a proficient speaker out of you.
Semi-intensive. With a frequency between the generic and the intensive. For example, two lessons twice a week.
For children 🧒. It's a language class with a lot of fun and playing. Of course, all in German and with teaching methods suitable for children. And you can't do more than 45 minutes at a time because children easily lose attention.
For professionals. It's a language training with a special focus on the working world. Since many students work or would like to work in Germany, a lot will be said about the local working world.
For nurses or doctors. Because there is a major shortage of these two categories of workers in Germany, there are courses and exams specifically dedicated to them.
Time for holidays. Are you planning a skiing holiday in the Tyrolean Alps 🎿 and want to impress your friends with your brilliant German? I cannot guarantee that you will be able to understand the Austrian dialect 😎 but the standard German language wouldn't be a problem.
Preparation for the exam. It is not always easy to understand the differences between the German exams: testDAF, Goethe certificate, telc, etc. The preparation is slightly different compared to a generic course also because there is almost always a short deadline.
Conversation course 💬. One mistake that most (too) methodical students make is to memorize all German grammar slavishly without paying due attention to the real language. In a conversational course, we apply the aseptic grammar rules to a real conversation.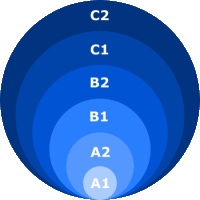 My German courses with Skype cover all levels of knowledge of the language, from A1 (beginner) to C2 (native speaker).
These levels refer to the definition of competence levels made by the Council of Europe (CEFR).
The skill levels as defined by the CEFR are shown in the table below.
| Level | Skills |
| --- | --- |
| A1 | Can understand and use familiar everyday expressions and very basic phrases aimed at satisfying needs of a concrete type. He can introduce himself and others and can ask and answer questions about personal details such as where he lives, the people he knows and the things he has. He can interact in a simple way as long as the other person speaks slowly and clearly and is ready to help. |
| A2 | Can understand frequently used phrases and expressions relating to areas of immediate relevance (e.g. basic personal and family information, purchases, local geography, work). He can communicate in simple and routine activities that require a simple and direct exchange of information on familiar and routine matters. Can describe in simple terms aspects of one's background, immediate environment and issues in areas of immediate need. |
| B1 | Can understand the main points of clear standard input on familiar topics that are regularly encountered in work, school, leisure, etc. Can handle most situations that can arise when traveling in an area where the language is spoken. Can produce simple linked texts on familiar or personal interest topics. It can describe experiences and events, dreams, hopes and ambitions and briefly provide reasons and explanations for opinions and plans. |
| B2 | Can understand the main ideas of complex texts on both concrete and abstract topics, including technical discussions in its field of specialization. It can interact with a certain degree of fluidity and spontaneity that make regular interaction with native speakers possible without effort for both parties. It can produce clear and detailed texts on a wide range of topics and explain a viewpoint on a topical issue by offering advantages and disadvantages of various options. |
| C1 | Can understand a wide range of longer and more demanding texts and recognizes an implicit meaning. He can express himself fluently and spontaneously without much obvious search for expressions. Can use the language flexibly and effectively for social, academic and professional purposes. It can produce clear, well structured and detailed texts on complex topics, showing a controlled use of organizational schemes, connectors and cohesive devices. |
| C2 | It easily understands practically everything that listens or reads. It summarizes information from different spoken and written sources, reconstructing topics and reports in a coherent presentation. He can express himself spontaneously, in a very fluid and precise way, differentiating subtle nuances of meaning even in more complex situations. |
Level assessment
The CEFR proposes a self-assessment. Read the document at the link and answer for each area of ​​competence of the five listed (listening, reading, oral interaction, oral production, written production) at what level you think you are, based on the description provided.
Advantages of courses with Skype