German courses with Skype
In 2020, technological progress is such that not only is a German course via Skype feasible but it also has some advantages over a traditional face-to-face course.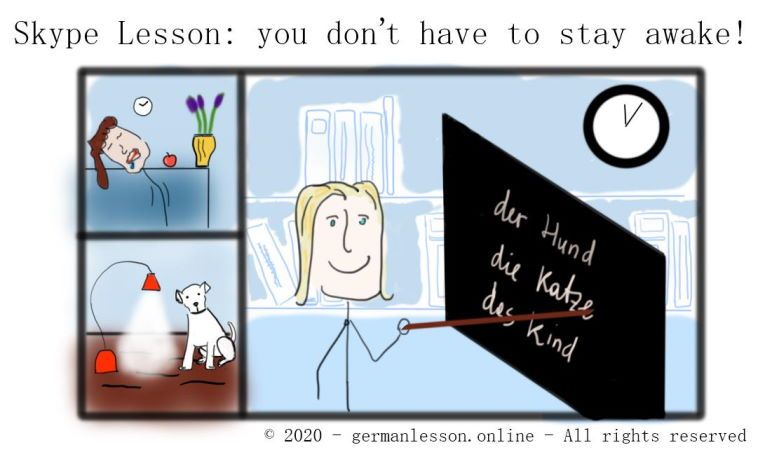 In an online German course, the student and the teacher are connected to each other via Skype or other equivalent software.
Contrary to popular belief, online language classes are as interactive and engaging as traditional courses.
It is essential that the tutor is able to keep the student's attention level high, reacting to the signs of inattention or tiredness that come from the student.
This is where tutors' experience comes into play.
Among the novelties of online language learning, there is the possibility to record the lesson, so that it can be easily reviewed later.
My experience 👩‍🏫
I have a degree in linguistics from Munich's University and have been teaching languages for thirteen years.
I enjoyed tutoring language learners from all over the world 🌏, say a country, I have it… probably.
I have taught in individual and group courses, both for adults and for children.
Only recently I have launched my online language courses. Focusing on the best techniques and strategies to learn a second language without the physical presence of a teacher.
My German courses
The beauty of an online course is that this is shaped, during the course, by the particular needs of the student.
The learner is always at the Mittelpunkt (center in German) of the learning process.
Let's see a rough categorization of the courses according to the number of lessons per week and the focus:
Generic. Once or twice a week, to learn the language calmly but with solid foundations. Obviously, it is the most requested. It is right for you if you have no special needs, such as tight deadlines.
Intensive. Probably you need to speak German in a short time, because of a deadline or similar. Two hours a day immersed in the language will make a proficient speaker out of you.
Semi-intensive. With a frequency between the generic and the intensive. For example, two lessons twice a week.
For children 🧒. It's a language class with a lot of fun and playing. Of course, all in German and with teaching methods suitable for children. And you can't do more than 45 minutes at a time because children easily lose attention.
For professionals. It's a language training with a special focus on the working world. Since many students work or would like to work in Germany, a lot will be said about the local working world.
For nurses or doctors. Because there is a major shortage of these two categories of workers in Germany, there are courses and exams specifically dedicated to them.
Time for holidays. Are you planning a skiing holiday in the Tyrolean Alps 🎿 and want to impress your friends with your brilliant German? I cannot guarantee that you will be able to understand the Austrian dialect 😎 but the standard German language wouldn't be a problem.
Preparation for the exam. It is not always easy to understand the differences between the German exams: testDAF, Goethe certificate, telc, etc. The preparation is slightly different compared to a generic course also because there is almost always a short deadline.
Conversation course 💬. One mistake that most (too) methodical students make is to memorize all German grammar slavishly without paying due attention to the real language. In a conversational course, we apply the aseptic grammar rules to a real conversation.