Pricing Private Online Lessons
The price of a private Skype lesson of German depends on the number of booked lessons.
In the first lesson, free of charge, I show you how a lesson with Skype works.
We are also going to discuss your actual level and further details, related to booking and availability.
1:1 lessons
The price on this page refers to 1:1 German lesson. If you want to know the price for a virtual classroom (online group course) visit my page Virtual Classroom Overview.
Duration of the lesson
You can choose the duration of the lesson, between 45 minutes and 90 minutes.
For a short fire of questions, you can book the 15 minutes slot.
In the 90-minute lesson we do not pause mid-lesson.
Fees
The fees for the duration of 15, 45, or 90 minutes are listed below.
There is no enrolment fee or extra cost.
| Duration | Fee (€) |
| --- | --- |
| 15 min | 14€ |
| 45 min | 40€ |
| 90 min | 78€ |
To make it more convenient to follow an entire course I make a special price for package bookings.
By booking 10 appointments you get an extra 5% reduction on the final price.
| 10 Appointments | Total Fee (€) |
| --- | --- |
| 45 min x 10 lesson | 380€ (5% reduction) |
| 90 min x 10 lesson | 741€ (5% reduction) |
Your Money-Back Guarantee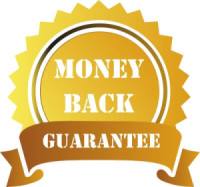 I want that anybody is satisfied with my courses.
In addition, I want that you feel confident about the booking.
Therefore I offer you a money-back guarantee.
If at any time you decide to withdraw from the course, you can do it without any explanation, and without any complaints on my side.
You just pay for the lessons you have already taken. The rest I'll pay you back.
Booking
You can book a lesson directly in my booking system. Just choose a day and select a free time slot.
At the end of the booking process, you are requested to pay the booked lessons with Paypal or credit card.
Book a lesson in my booking system.
Do you need more time, more information, more certainties to decide? Contact me to get a free trial lesson.