German lessons with Skype
In a German lesson with Skype, you have the possibility to learn the language comfortably sitting in your favourite armchair at home or wherever you like.
This modern medium of teaching is often seen as second class learning. Erroneously I think.
Perhaps because of resistance to technological progress. Or perhaps because of the belief that there are more engagement and interactivity in the traditional lesson, the latter is generally believed to be better.
Are we sure that's the case?
I believe that in 2021 technological progress is such that an online lesson no longer presents a challenge.
Specially for language lessons, online learning has proved to be an innovative way to learn. It solves many problems, for example those related to student-teacher proximity.
Nowadays, broadband Internet connections allow a good transmission of audio and video, you don't have to fear call dropping or bad audio, therefore keeping the objective of learning the language in focus.
In a Skype lesson, it will be like standing in front of each other. The lesson is as engaging and interactive as any traditional lesson.
The possibilities to share audio and screen are useful tools for the teacher who will be able to play audio texts and assign tasks and homework to the student.
Among the innovations of Skype lessons, there is the possibility of recording them. Both audio and video are recorded for later use.
On this page we are going to learn about 1:1 German lessons with Skype. If you are interested in group course have a look to my page virtual classroom German
About me 👩‍🏫
I'm a polyglot teacher with a degree in linguistics and have been teaching German as a foreign language (DAF, Deutsch als Fremdsprache) for thirteen years.
As a language tutor, I had taught in individual and group courses, both for adults and for children.
Only recently I have launched my German courses with Skype. In my Skype courses I take advantage of what I learned in these many years of tutoring.
I know how to put the focus on learning to speak rather than giving sterile grammar lessons.
Pros of a lesson with Skype
Before going into details of my German courses let's review the pro of learning a new language online.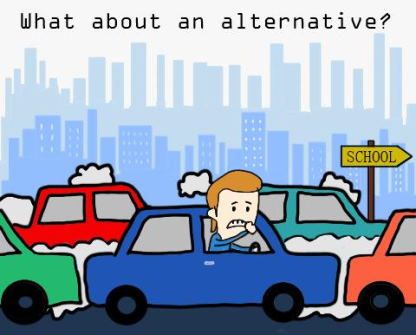 Commuting time 🚌
Unless you live in a castle the commuting time is very short, just the time you move to the room where your PC is 😜.
Of course, this is one of the big advantages of taking online lessons, there is no commuting.
On the opposite, imagine you have to travel to your language school at the end of an exhausting working day and then travel back home. Like our friend in the pic below.
Native speaker teacher
Sure you want to learn with a native speaker teacher who speaks accent-free German and knows all the tricks of the language.
Unfortunately, you cannot assume that you have a native German speaker teacher always available close to where you live.
With a German Skype lesson, you can be anywhere in the world 🌍, and have a German native speaker always available for you.
This makes your learning experience richer.
Language and culture
When you learn a new language, typically you don't want to focus only on the technicality of the language, you probably are interested in learning the culture of the country where the language is spoken. Germany in our case.
Hence your German language course should be also a German culture course. That's another reason to have a native speaker living in Germany for teacher.
In my my language learning program there are many topics inspired by real life in Germany. Or German speaking countries, do not forget that German is spoken also in Austria and Switzerland.
Safety ⛑️
Let's face it. We live in problematic times. Do you feel confident in letting a stranger into your home? Or go to someone's place?
With an online lesson, the problem simply doesn't exist. You learn the new language in a totally safe environment, not having to fear anything.
My language class
A course for every need:
The generic German course for a language level. It is, obviously, the most booked language course. 1 or 2 lessons a week, for those who want to learn at their own pace.
Intensive. It is aimed to learn faster. 2 or 3 lessons a day from Monday to Thursday/Friday. Ready for the full immersion?
For Juniors. Juniors need special teaching techniques, specially pre-schooling kids who are not yet able to read or understand grammar concepts.
Crash course for vacation 🏖️. Planning your next vacation in a German speaking country? Get the most out of it.
Preparation for Exams. There are different exams: testDAf, Goethe certificate, telc certificate, to name the most requested. The curriculum of such a course is slightly different because usually there is a close deadline, and there are specific competence areas to be trained.
Conversation. You have focused too much on grammar, but you still struggle to speak fluently. No problem, let's do a conversation course.
CEFR Levels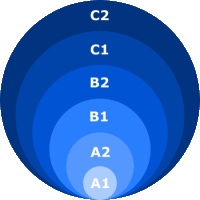 I offer lessons for all levels.
The meaning of each level is defined by the CEFR (Common European Framework of Reference for Languages). It defines six levels of foreign language proficiency: A1 and A2, B1 and B2, C1 and C2.
Have a look at the table below to see what language skills are expected for each level.
| Level | What is expected |
| --- | --- |
| A1 | Can understand and use familiar everyday expressions. Introduce himself and others. Have a basic conversation with someone who speaks slowly and clearly. |
| A2 | Understand sentences and frequently used expressions. Can communicate routinely tasks, in a simple way. Can get by in the country, even if with some difficulty. |
| B1 | Can understand the main points of clear standard input on familiar topics. Can produce simple connected text on familiar topics. Can express personal experiences and opinions, talks about events and plans. |
| B2 | Understand the main points of complex text, including tech discussion in his field of expertise. Produce clear and detailed text on a wide range of subjects. |
| C1 | Understand a wide range of complex, longer texts, and recognize implicit meaning. He doesn't need preparation for the topics. Produce clear and well-structured text, showing controlled use of organizational patterns, connectors, and cohesive devices. |
| C2 | It's comparable to a mother tongue. He can understand everything heard and read. Understand and can use finer shades of meaning. |
Level of the courses
A1 German language courses are for beginners. In the A1 course, there are many grammar lessons. Although usually, I modulate the grammar content for people who don't like the grammar approach.
So don't be afraid if you don't like grammar, there is a solution 😉.
From A2 to B1, we will switch gradually from abstract grammar concepts to always more complex German words and phrases. We work on the comprehension of the language, not forgetting the pronunciation, that is a very important, and often neglected, component of learning languages.
B2 is a consolidation course before you fly to higher levels. It is considered somewhat the turning point in learning the new language. If you pass the B2 you have done it 🎉.
The C1 level is very much focused on expanding the vocabulary, to improve your conversational skills.
C2 is the highest level, you have learned the language in all its aspects and can challenge a native speaker. You can now move to the next challenge, German dialects for example.
Said among us, German course level C1 or C2 are the most relaxing, it is mostly about speaking German to acquire fluency and a wider German vocabulary.
Duration of the lesson ⏰
When you choose the length of the lesson, consider all the important factors, remembering that learning German must be a pleasure first.
Some factors to take into account are: how long you can follow without losing attention, how much money you want to spend, how much time you have to learn German… everything that comes to your mind.
You can choose between 3 options for the duration of the lesson:
15 minutes. You know how to use your time! Prepare your questions upfront. If you want me to correct a text, send me the text in advance.
45 minutes. You come from a long working day. It is best not to overwork with too long a lesson. This is a perfect choice also for children and teenagers, who can't stay focused too long.
90 minutes. You are really motivated, children are not starving at home and du hast Spaß (you have fun)!
Pricing of the lessons 💰
For the invaluable service of teaching you German I ask you a modest contribution 😉.
For the fees of my German lessons go to the Fees page.
The Lesson 👩‍💻
If you have never taken online lessons you might be wondering how does it look like?
The teacher and the learner have a handful of tools to make the lesson effective. Some of these tools are inherited directly from the traditional lesson, some are peculiar to online learning. Let's review them.