Learn German in a virtual classroom
Online German learning in a virtual classroom is the most cost-efficient way to learn German. You are going to learn German with the fun-factor that you usually have in a class with other mates.
Online language classes are interactive and engaging as traditional classes. Especially if the tutor is able to keep students' attention level high, otherwise… well, look at the artwork below.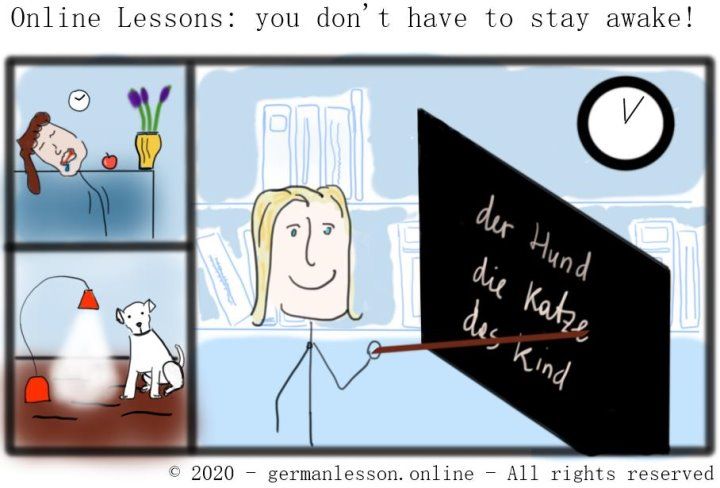 Anyway, no problem if you fall asleep, among the innovations of the virtual German language course there is the possibility to record the lesson so that it can be reviewed later.
My online lessons have the capability of up to 6 participants. So plenty of room to express yourself!
What is a virtual classroom?
A virtual classroom is a group course where students meet a tutor in an online -therefore virtual- room. It is a modern alternative to the physical classroom. With the teacher and the students connected through the internet and a software that helps to have real classroom experience.
In my German virtual classroom, I have set a maximum of 6 language learners. Keeping the class small guarantees an efficient learning experience.
Other possibilities to learn German online are the 1:1 class, or the pair-class (two students only).
About me, your German tutor 👩‍🏫
In 2012 I graduated in Linguistics from Munich's University. Since then, I have been tutoring languages for thirteen years. Teaching languages to people from all over the world 🌏, to children, adults and senior, in individual and group courses.
Only recently I have launched my online language teaching service. With a special attention to the best techniques and strategies to learn the German language completely online.
The language courses
Let's see a rough categorization of language classes depending on the number of lessons per week:
Soft. Once or twice a week, to learn the language calmly but with solid foundations. Obviously, it is the most requested. It is right for you if you have no special needs, such as tight deadlines.
Intensive. Probably you need to speak German in a short time, because of a deadline or similar. Two hours a day immersed in the language will make a proficient speaker out of you.
Semi-intensive. With a frequency between the generic and the intensive. For example, two lessons twice a week.
Another possible classification of German classes is based on the targeted learners. In my cases, I offer the following courses:
For children 🧒. It's a language class with a lot of fun and playing. Of course, all in German and with teaching methods suitable for children. And you can't do more than 45 minutes at a time because children easily lose attention.
Companies. Because is very important that an employee integrates into a German working environment, most companies pay German courses for their foreign employees.
For nurses or doctors. As a matter of fact, in German-speaking countries there is a major shortage of these two categories of workers, therefore there are also special courses and exams dedicated to them.
Or, based on the purpose of your learning:
Holidays 🏖️. You are planning a visit to Berlin or a tour of Munich's castles and want to surprise your boyfriend with your impressive German. Take a German crash-course to grasp the basics of the language and train your ears for the German pronunciation.
Language test preparation 📋. It is not always easy to catch the difference between the many German exams: testDAF, Goethe-Zertifikat, telc, DSH. The content of such a course is a bit different, also because there is often a close deadline.
Conversation course 💬. Language learners often do the mistake to focus too much on grammar. Result? They are not able to interact with a counterpart speaker in a real conversation. In a conversational class, the focus is on naturally acquiring fluency through speaking German. Less grammar, more language and culture!
Talking German
For sure, being able to interact with other German speakers is one of the scopes of taking a German course.
BUT, speaking German like a native speaker?
At a glance, it might sound highly unrealistic. Indeed, it just requires a lot of practice, probably many years of practice.
In my language course, I'm going to set a realistic target for you. Then we proceed defining the means to reach your target, keeping you motivated and maximizing the outcome of your effort.
We assess your current level, then proceed step-by-step to improve your German, following a curriculum that is proven working by many years of experience.
Defining a target can simply mean defining the level of German you want to reach, A1 for example.
The definition of the level is already a good target, because the levels are codified, and almost anyone knows what to expect for a given level.
If you are not familiar with German language levels, no problem, just keep reading!
Language level 🌡️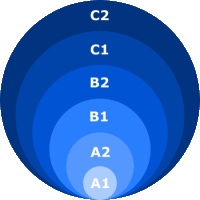 In Europe, the levels of proficiency are indicated with A1, A2, B1, B2, C1, C2.
Let's see what these levels mean:
levels A1 and A2 refer to a beginner knowledge level of German. At the end of the course, you know most of the grammar and will be able to elaborate easy sentences with a limited German vocabulary
levels B1 and B2 refer to an intermediate level. You have a fair comprehension of the language, starting to be independent in your use of the language
levels C1 and C2 indicate advanced German knowledge. You are completely independent and can get away in any situation requiring advanced linguistic knowledge. You are fluent in any situation
Because I'm a native speaker teacher I can cover all levels of the language. Let's just see what language skills you currently have and what level you want to reach! It will be our journey to learning German.